Grundfos SQFlex Submersible Solar Water Pumps
Grundfos SQFlex Submersible Solar/Wind Water Pumps (Renewable Energy Friendly)
The longest-lasting, and most flexible Renewable Energy Submersible Water Pump - Grundfos SQFlex Series Pumps. Use Solar, Wind, or AC household power. Runs on both AC and DC voltages, 30 to 300 VDC and 90 to 240 VAC.
Lift water up to 800-feet. The Grundfos SQ Flex Pumps are for serious water uses, think livestock, large farms, and municipalities. No powergrid - no problem.
The Grundfos SQFlex Series is perfect for:
Livestock watering
Livestock watering with solar solutions
Agriculture Solar solutions
Solar boosting & water supply
Municipal solar solutions
Community water supply
Community solar solutions
Municipal solar solutions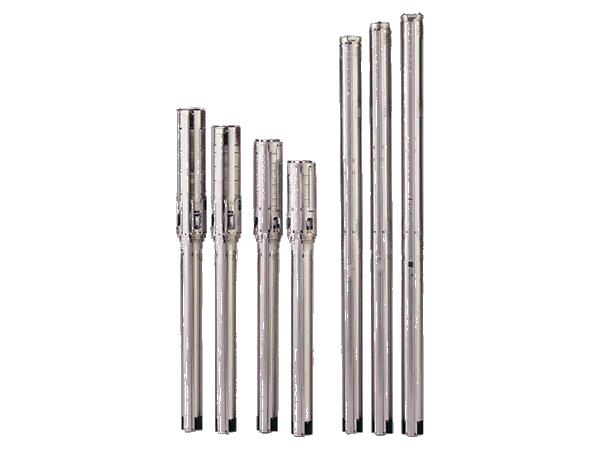 Additional Grundfos Pump Resources
Grundfos Pre-Designed Solar Water Pumping System Packages (Solar and Pump Kits)
Grundfos Solar Water Pump Components and Parts
---
Grundfos SQFlex Solar Submersible Pumps
This Grundfos SQFlex is an industry-leading submersible pump for water lifts of up to 800'. The 11 different pump models can deliver from 82 gpm at 6' of head to 4 gpm at 800' with up to a 1.6 kW solar array.
There are two different pump technologies, Helical Rotor Pumps and Centrifugal Water Pumps. Use the helical rotor pumps (models 3, 6, and 11) for high head applications and centrifugal pumps (models 16, 25, 40, and 60) for low head applications for best efficiency. The SQFlex has built-in protection from dry-running, overloading, and overheating.
Power SQFlex Submersible Pumps with Solar, Wind, or Grid Power
SQFlex pumps can be directly powered by solar, wind, and household grid power. They can also be remotely operated with a generator, or battery bank and inverter, or any combination of these sources.
Virtually any source of power, 30 to 300 VDC and 90 to 240 VAC, can be used to run these pumps. It can operate on solar panels in a series configuration with a total peak power voltage of at least 30 VDC, but its efficiency will be highest at voltages over 100 VDC (10% less efficient at 60 VDC, and 20% less efficient at 35 VDC).
Its motor is designed to draw a maximum of 8.4 A, which means that many types of PV modules can be used with this pump, including the common 60 cell modules.
SQFlex models 3-SQF through 11-SQF will fit into a 3" well and models 16-SQF-10 through 60-SQF-3 will fit into a 4" well - check the chart below.
Grundfos SQFlex Models:
Model Number

Type

Max Head

(Lift)

Max Flow

Solar Power (Watts)

Pump Diameter (Pipe Size)

Helical Rotor

360 Feet

3 GPM

100-340

3" (1" NPT)

Helical Rotor

600 Feet

2 GPM

130-600

3" (1" NPT)

Helical Rotor

360 Feet

6 GPM

100-650

3" (1" NPT)

Helical Rotor

820 Feet

4 GPM

100-900

3" (1" NPT)

Helical Rotor

300 Feet

11 GPM

50-900

3" (1-1/4" NPT)

Centrifugal

210 Feet

20 GPM

400-1400

4" (1-1/4" NPT)

Centrifugal

45 Feet

40 GPM

120-760

4" (1-1/2" NPT)

Centrifugal

90 Feet

39 GPM

130-1400

4" (1-1/2" NPT)

Centrifugal

45 Feet

38 GPM

200-800

4" (2" NPT)

Centrifugal

90 Feet

70 GPM

300-1400

4" (2" NPT)

Centrifugal

45 Feet

85 GPM

20-1400

4" (2" NPT)
---
Power the Grundfos SQFlex on Renewable Wind Power
The Whisper 200-120-volt wind generator can be connected directly to a SQFlex pump. Use the Grundfos IO-102 Wind interface in place of the Whisper 200 Controller.
SQFlex Warranty and Extended 5-Year Warranty
SQFlex pumps have a 2-year manufacture warranty from the date of purchase. You can also purchase a Grundfos SQFlex 5-year extended warranty when you purchase your pump or kit and it's verified and documented by a dealer.
---
Grundfos SQFlex Optional System Monitoring Interface
CU200 Interface Box
If you require a little more control and information regarding your Grundfos SQFlex pumping system you can use the CU200 Interface Box. You'll get built-in diagnostics that indicate faults, display operating status, power consumption, and prevent dry-running. The CU200 is covered by a standard 2-year warranty.
Water Level Switch Input - The CU200 also has an input for a water level switch to automatically turn off the pump when your take is full. Since the CU200 control circuit uses only 15 mA, the water level switch can be located in a tank as far away as 1,640' from the pump, using a minimum #18 AWG 2-conductor wire.
IO-50 Control Box (Solar Disconnect)
The IO-50 control box includes cable terminations and a manual on/off switch that interfaces between a solar array and the pump to allow you to turn off the high voltage array when servicing the pump or plumbing.
IO-101 AC Interface Box (Auto Power Switching DC & AC)
The IO-101 AC interface box is for using AC backup on a solar pump. An automatic transfer switch disconnects the solar array when AC power from a generator (120 VAC only), utility connection, or inverter is present. When AC power stops, it automatically reconnects the array to let the sun continue pumping. The SQFlex pumps will not function with a GFCI in the supply circuit, and should not be used where a GFCI is required.
IO-102 Interface (Wind or Wind & PV)
The IO-102 interface unit is used for systems powered exclusively by a wind turbine or by a combination of wind and PV.
Additional Articles:
Learn how a Californian Grape Farmer uses Grundfos Pumps for their farm.
Solar Water Pumping Kits and Systems for Farm, Ranch, and Livestock
Solar Water Pumps and Systems | Efficient, Simple & Reliable
How to Install Grundfos SQFlex (YouTube)

---
---
---